The role
As a Project Manager you will be responsible for a number of projects on which the developers work remotely and the clients are based in Sweden. You will take charge of making sure that projects are progressing according to plan and upholding client satisfaction.
You will be working under the supervision and direction of our experienced Head of Production: Alex Chumachenko.
Where you will work
Say hello to our new office space in the centre of Kyiv!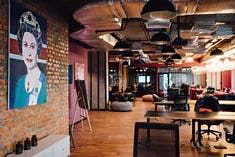 Creative Quarter (Astarta, Podil)
What you will do
Here are some of the things that will be expected of you in your new role:
1. Project onboarding:
When a Swedish company starts with a developer, it is your responsibility to make sure the client, or their contact person, is introduced to the developer.
You will structure the issue tracking software (normally JIRA) and the backlog based on the client's requests. 
You will make sure that the on-boarding process is done in an orderly and structured way.
2. Project delivery:
You will be responsible for creating tasks (tickets/issues) for the developer and making sure that bottlenecks are kept to an absolute minimum.
You will be required to communicate as often as necessary with the client to ensure that the project is progressing according to plan.
---
What we offer
Full-time work in a fresh and creative office in the centre of Kyiv.
Competitive salary.
Work in a new and growing production department.
Possibility to work from home twice (2 days) a month.
Requirements
Experience of leading several projects in parallel or experience in managing large scale project.
Experience with requirement managing, risk management, change management.
Jira Scrum/Kanban workflow experience.
 Experience in technical specification writing, user guides, release plans.
Ability to work on several projects simultaneously.
Upper-intermediate English level (at least B2 on CEFR).
Willing and able to work at the office in Kyiv.
Advantageous
Technical background.
Familiar working with remote developers.
Business sense.
Budget management.