Confirming developers' skills and experience, as well as their cultural fit before you hire them, can be a time-consuming and expensive ordeal. Luckily, Proxify has professionals that assure every aspect of their capabilities, and we bring a perfect match for our clients' needs after we've done all the tests.
Here are all the phases of testing, who does them, and why, explained for all our future clients reading this.
Before joining the Proxify network
Only 2% of the top-tier developers that apply to join Proxify make the cut. That is because we take specific steps as part of the vetting and selection at Proxify, which start right away after their application has been filled in.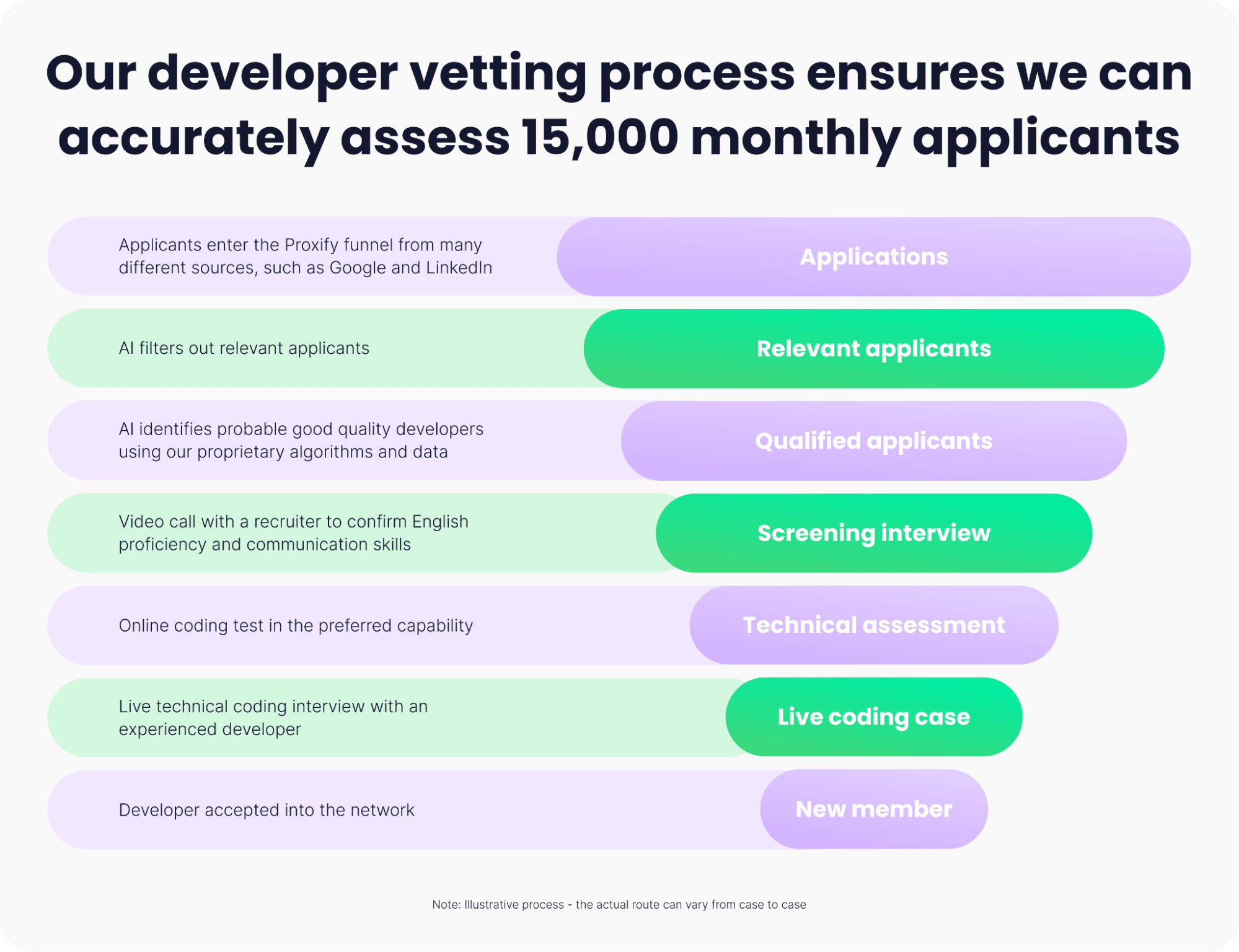 1.Application process
In this first step, an applicant's strengths, weaknesses, goals, abilities, and more are evaluated before they move forward. Here we see if they can continue the assessment and move forward.
This survey process for past work experiences and professional background is a much-needed step in eliminating thousands of applicants and resumes.
At this stage, we gather personal contact information; learn which role they are applying for, their years of experience, social links, level of English proficiency, a resume sample, and similar relevant information before moving forward.
2.Screening interview
Here, we conduct an initial screening interview with only those developers who meet our baseline requirements and criteria. These interviews provide a better insight into the personality and soft skills of candidates and their professional background, and reasons for joining Proxify.
The VP Assessment of Proxify, Stoyan Merdzhanov, explains the importance of the screening,
"Without exception, our mission is to identify and select top developers that align with our network's high standards and foster a vibrant network of exceptional independent developers."
The screening interview is a sub-process of the overall assessment process. These applicants don't just possess the necessary technical skills, but they also align with Proxify's values and culture, showing the potential to move forward.
Throughout this whole screening stage, our devoted team focuses on meeting all candidates with separate time slots for 1-on-1 meetings. These meetings evaluate candidates' attitudes, professionalism, conversational skills, and expertise.
3.Technical assessment
The technical assessment aims to test for specific, required hard skills related to a particular developer role.
Stoyan further explains the relevance of the technical assessment, which can also come in various forms – coding challenges, case studies, or specialized tests.
"This is an advanced evaluation process in a controlled environment, where a candidate's primary set of hard skills is assessed through a series of questions and practical assessment tasks. Then, only those developers that passed the screening interview can move on to the next technical assessment stage."
Occasionally, it is also possible for developers to take the technical assessment first, i.e., before the screening interview, as a way to ease the workload for the assessment team. This way, we would easily differentiate between all applicants before some go to the next stage.
Our technical interviewers are senior developers in their specialization fields with years of experience, making the technical interviews all the more relevant.
4.Technical interview
Recruiting the best developers is vital for our mission to help companies build a top team. To ensure we have the best candidates at all times, we started doing technical interviews around the clock, improving efficiency, increasing the number of expert developers, and ensuring we could scale quicker.
At this stage, we have in-depth conversations with the candidates and judge their technical expertise, collaborative mindset, and problem-solving skills. Only candidates that pass the previous steps go through a technical interview.
Proxify's Technical Assessment Lead, Victory Fernandes, explains more about the technical interview:
"During technical interviews, we assess the overall maturity, expertise, experience, and candidate's coding skills. We ask the candidate questions about how they would approach or solve a problem and expect them to answer from a business perspective."
The candidates must also solve a specific coding test tailored to their expertise.
"There is a timed coding test adapted for that candidate's skills. Candidates can do it at their speed and pace and solve the test more relaxed."
We have secured outstanding quality and scalability by partnering up with a cloud interviewing service that offers 24/7 service conducted by experienced professionals. This latest enhancement enables us to assess candidates' technical skills efficiently, even in regions with low candidate volume, and in filling the gap even in arer skills, such as DevOps, Quality Assurance, Data Science, Data Engineering, and Business Intelligence.
Jonathan Hindi, Product Manager at Proxify, described what makes this streamlined recruitment process beneficial all around,
"With our new partnership, we're thrilled to offer candidates round-the-clock technical interviews. Now we can onboard exceptional developers faster than ever, all while maintaining a high-quality assessment process. We're confident this will help us accelerate our journey towards uncovering the world's hidden talents."
With this standardized evaluation process, we maintain a high standard of consistency and fairness when assessing candidates, even without internal specialists.
5.Final review
We summarize and evaluate everything from the preceding interview stages before deciding whether to proceed with a candidate. We tick off every must-have aspect of candidates that would be an excellent match for our clients.
The takeaway
At Proxify, a team of professionals always ensures our clients are matched with only the best developers. From the first step in hiring to finding the best match for each developer, we provide clients and developers are happy.
With consistent technical vetting, ensuring cultural fit, and other relevant skills, we bring to clients only the best of the best developers globally. And Proxify's support doesn't stop after a match has been made, but instead, the developer success team continuously upskills the matched developers to ensure they always have the necessary tools and knowledge to succeed at their work with the clients.